Volunteering at EOS
We are currently reviewing our volunteer roles. Please check back in a few months when our volunteer opportunities will be updated.
Below are some supporters who have volunteered to give back to EOS.
Lily

Lily helped out in the EOS office doing admin for almost a year after attending a volunteering day at school.
Lily (17) came in every week during her final year of secondary school and said she got a lot from helping out.
She said: "I have eczema so I like that I'm giving my time to help kids with the same condition. As I'm in my final year, I had quite a lot of free time during school so I feel this is a good use of that extra time.
"Everyone in the office is so welcoming and keeps me topped up with chocolates and biscuits, I've loved helping out."
Lily's main role is making up welcome packs to send to new members and she has got super fast at making them up – this has cleared up time for the EOS staff and means they can concentrate on helping families.
Davina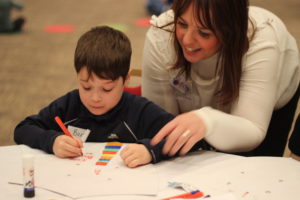 Davina volunteered at one of the Eczema Outreach Support's events for families earlier this year and said the experience has made her consider a career move.
Davina said: "I stumbled across EOS by accident after looking at the Children in Need website and seeing it was one of their supported charities. My husband has psoriasis and a relative's baby has been struggling with eczema so it seemed like a good fit and a cause I wanted to help. Also with the events being at the weekend, it fit in with my free time from work.
"I went along to the Glasgow event and all the staff and other volunteers were so welcoming and friendly. The event was really well organised and there wasn't the panic and rushing about I've experienced at other events."
EOS family events include activities for children and separate talks for the parents. This event included a kids yoga session and Davina's skill set came in handy.
She explained: "I am a laughter yoga leader and I did a session with the teenagers which was great. They really came out of their shells and joined in with the session.
"I got a lot from the day, getting to spend time with these brave young people that have a lot going on and were so knowledgeable about their condition and what they had to do to help their skin.
"I've been considering moving into education now and changing careers and volunteering just compounded that I love helping people.
"When you give some of your time or knowledge of experience in a voluntary setting, you get back so much. It makes you feel wonderful and it can be a bit addictive to know you are helping the community."
Daniel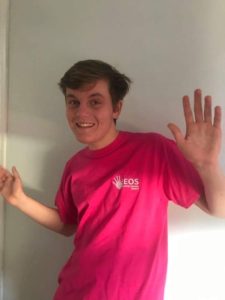 Daniel is a member of EOS and has been volunteering for the past year at events. He has come along to XY Club meets to share his experiences with young people aged 11-17 and has given up his time to take part in the online XY meets since lockdown meant physical meets were impossible. Danile (17) said: "I have eczema and so I know how hard it can be to deal with secondary school and have skin flare ups. I am close in age to the young people that take part in the meets so I can see things from their point of view and offer my perspective. "Although I am going to be too old to be a member of EOS soon, I will 100 per cent still volunteer and give my time to help others. I love helping and if my time can make another young person with eczema feel better, then it's all worth it. "If you are thinking of volunteering, do it. You feel amazing to help others and give something back to EOS for the support they gave my family."